So the weeks and months of watching pilot episodes have come to a close! But for the most part, I've watched everything I promised to watch. I wasn't able to write about everything, or else I think I would have gone insane. And that's my fault for thinking I could handle writing a review for each episode for every new series for 3 episodes. Heck, even A.V. Club doesn't do that and they are very, very good at being very, very thorough. But here we are, about to look back at the Fall shows.
Overall, I was very disappointed with the Class of 2014. There were far too many horrible shows, with very few "this is okay" series deserving another season. Only having 3-4 solid shows out of 19 observed was rough. But regardless, those good shows are GOOD, and I'm excited to see how long they last. I'm extremely proud of ABC, and how they dominated this year with the top-rated new comedy and drama so far. I'm greatly disappointed in FOX, and how far they've fallen within half a year.
I predicted the results of 23 shows in September; but since I only watched and ranked 19 (felt unfair to include them). The shows I chose to skip were Bad Judge (NBC), NCIS: New Orleans (CBS), Forever (ABC), and The McCarthys (CBS). So here's my "Rules of Three" assessment, from worst to first.
Mulaney (FOX)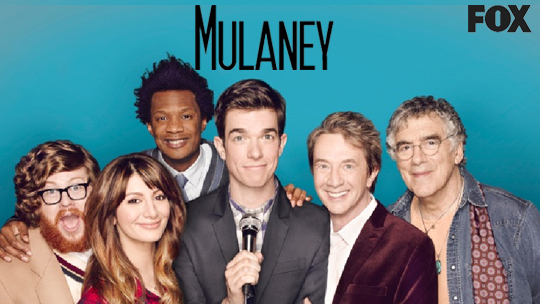 Predicted: 20th/23
Actual: 19th/19
I was: Close. I knew this show would be bad, but not this bad.
My Pre-Season Prediction: No season 2.
Reaction: Yeah. We're still on track for that. Nasim Pedrad wasn't a horrible actress. But everything else was. Just. Everything.
Manhattan Love Story (ABC)
Predicted: 21st/23
Actual: 18th/19
I was: Close.
My Pre-Season Prediction: Cancelled in 2 episodes (it'll be following a predicted, low-rated Selfie, so it'll be even lower rated than that)
Reaction: So it was cancelled in 4 episodes. So close!
The concept wasn't a bad idea, but it's hard to pull off today. Plus, the supporting cast didn't support. At all. The narration got annoying, and the two star characters never really felt like they should be together anyways. They argue 90% of the time, and get along at the end of each episode. Very unrealistic.
A to Z (NBC)
Predicted: 22nd/23
Actual: 17th/19
I was: Right, but disappointed in its performance.
My Pre-Season Prediction: Cancelled 6 episodes in
Reaction: AHH, one episode short. Cancelled in 5 eps. Again: So close!
Cristin Milioti was good, and even Ben Feldman wasn't bad. The two had a decent enough chemistry. But each of their best friends dragged the show down, and the B stories involving the boss were beyond annoying.
Mysteries of Laura (NBC)
Predicted: 18th/23
Actual: 16th/19
I was: Accurate
My Pre-Season Prediction: It'll get cut by NBC. No season 2.
Reaction: It's on its way there, but we won't know until the end of the season.
I have to give NBC credit: they programmed this show well with their Wednesday block of procedurals, being a decent enough transitional show to Law & Order and Chicago P.D. The show's done pretty well considering its poor quality. A title character who's awesome as a cop and bad as a parent isn't convincing because she's bad at both. Most of the dirty, actually good investigation work is done by her team, and for the laziest writing reason, her assistant.
Red Band Society (FOX)
Predicted: 9th/23
Actual: 15th/19
I am: Confused. How did I rate this show so high? I was so wrong.
My Pre-Season Prediction: It'll get a 2nd season.
Reaction: It hasn't been officially cancelled, but it was pulled from the schedule after 10 eps. So that should be all folks.
Conceptually, the show's quite unique. No other show like it on TV right now, and it could have been a former Glee fans could attached itself too. But primarily, I found it very hard to cheer for any of the characters here. Also, it had major identification issues. Not the characters within the show, but the writers couldn't decide if this was a kids' show or an adults' show. Because you can't have a doctor sleeping with a nurse AND a patient's mom and call that family entertainment. Also, a kid in a coma was the narrator.I wash my hands with this show.
Cristela (ABC)
Predicted: 15th/23
Actual: 14th/19
I was: Over-rating this series.
My Pre-Season Prediction: Gains a 2nd season.
Reaction: The show got a full season pickup order, but I think it's more to do with having nothing else for the timeslot than anything else. I'm 95% certain a season 2 will not happen, unless it becomes even cheaper to make next year.
Cristela is funny…when it's not a Hispanic race joke. And it makes up 80% of her jokes. Not to say they weren't funny, but it was quite exhausting after one episode, let alone 3. Also, this is one of the weaker supporting casts I've seen, both at home and at work.
Selfie (ABC)
Predicted: 23rd/23
Actual: 13th/19
I was: A hater. Now, I'm biased.
My Pre-Season Prediction: Cancelled halfway through season.
Reaction: NAILED IT!
John Cho's character was actually alright to watch, and Karen Gillian was pleasant to watch (Doctor Who-bias). But Karen Gillan's character was the worst, and the character's believability was what doomed the show. What we learned: this wasn't the best fit for Karen.
Constantine (NBC)
Predicted: 13th/23
Actual: 12th/19
I was: Underwhelmed.
My Pre-Season Prediction: Should come back for a 2nd season
Reaction: No back order on the way, so I'm 90% positive we won't see this series come back next year.
Underwhelming acting, underwhelming visual effects, and underwhelming plots. Complete with a leading lady leaving to be replaced with an under-developed new leading lady, this whole show was doomed from the start. The show wasn't bad in hindsight of all the problems it ran into, but it was…well, you get the picture.
State of Affairs (NBC)
Predicted: 6th/23
Actual: 11th/19
I was: Blinded by NBC's success.
My Pre-Season Prediction: A 2nd season should be pretty easy with a post-Voice timeslot. But it could get a Revolution-like aftermath if left on its own (cancelled by season 2).
Reaction: There haven't been enough episodes on a rating's standpoint to say it's not coming back. But, Revolution had better viewership & ratings in the same timespan two years ago, and we all know The Blacklist was even higher than that. So it's not looking good.
NBC's recent success made me think "if they are willing to replace The Blacklist for this show, then it has to be good, Heigl or not." I was so wrong. Read the next show because both these shows had the same problem. S.o.A. was just worse at it.
Madam Secretary (CBS)
Predicted: 3rd/23
Actual: 10th/19
I was: Overhyped.
My Pre-Season Prediction: If Tea can add some light humor once in a while, this show can last for years and years.
Reaction: Well, she hasn't. So perhaps not.
Situation occurs. Met with resistance. Political issue resolved. That's pretty much the rundown every time I watch Madam or State. The episodic plots aren't as exciting when they win every time. Also, the season-long storylines are horrendous and beyond believable (Madam finding out a friend's murder was for a government secret, and State with Heigl's former fiance being the president's son, who just so happens to also have wanted to kill Heigl. Seriously?). Those are season finale-type storylines, not how you get a show started. Quality of both shows are still good, but it's hurt by the boring procedurals they became.
Marry Me (NBC)
Predicted: 6th/23
Actual: 9th/19
I was: Horribly overexcited.
My Pre-Season Prediction: Cancelled at season's end
Reaction: Yeah, it's looking that way.
While I knew I wasn't going to get a Happy Endings do-over, I was still very disappointed with the show's development. Casey Wilson was the Phoebe of Happy Ending's gang, and now she's supposed to be the logical one? Still crazy, yet logical and forgiving? Fans of H.E. were not on board. Also, supporting cast weren't horrible…but those were horrible characters. The show was so disappointing, I literally told to a friend "they cancelled Growing Up Fisher for this?"
Gracepoint (FOX)
Predicted: 4th/23
Actual: 8th/19
I was: Tricked by myself
My Pre-Season Prediction: It's a limited series, so….no season 2?
Reaction: Well, I got the no season 2 part right.
I forgot remakes are rarely successful, and it doesn't matter how great or known the original is (e.g. Jane the Virgin). All that matters is how the show presents itself in relative terms. And while I still enjoyed the season, it really wasn't anywhere near as good as the original; and with Broadchurch now streaming on Netflix, it really is pointless to watch the FOX remake.
Stalker (CBS)
Predicted: 12th/23
Actual: 7th/19
I was: Wrong. But it's my mission to convince people how good this show is
My Pre-Season Prediction: They'll renew it for a 2nd season early, since their Wednesday 10p slot won't be too competitive (Nashville, ABC;Chicago P.D., NBC) and with Criminal Minds as a lead-in.
Reaction: On the last new episodes of the season, Stalker had a 1.4 rating, with Chicago P.D. and Nashville both receiving a 1.5. So I was massively wrong. But I'm still on a mission.
Viewers tend to be biased because they don't like creepy people. Heck, that's why people watch Law & Order, so those people get caught and put to justice. But I think Stalker gets a bad rap. I mean, I understand: Maggie Q doesn't have a personality in this show. I get it. Dylan McDermott is an over-rated actor who's character is as creepy as they come. I get it. But this show is quality. Good quality. And that's coming from someone who dislikes procedurals. It's a solid show, and while the ratings aren't totally supportive of this, I truly believe it's better than more than half the shows on broadcast air today. I'm off my soap box now.
Scorpion (CBS)
Predicted: 8th/23
Actual: 6th/19
I am: Accurate, but still disappointed
My Pre-Season Prediction: A 2nd season should happen.
Reaction: Yeah, we should still be on the road toward that. It's held a 2.3+ season average, and builds from its Mike & Molly lead-in. So a 2nd season should be on the way.
This is one of the very few shows where I'm sure the show is better than I make it out to be. But, I'm being biased: I was hoping this show would be the new Numb3rs. And this show is nowhere near that. So while the show is okay, I put it towards the bottom of my bucket. It's not what I wanted it to be, and I just can't enjoy it. Also, hiring Katherine McPhee's character to interpret these people to the world? I'm sure it has more to do with her son than anything, but I mean, seriously?
Gotham (FOX)
Predicted: 2nd/23
Actual: 5th/19
I was: A little close, but I'm over it.
My Pre-Season Prediction: It'll get a 2nd season.
Reaction: It's headed in that direction. Mainly because it's the only light in an otherwise very dark year for FOX.
(Sigh) I know the show gets better from the terrible villains of its first episodes, and I'm pretty sure the character development makes it interesting. I always thought it was a quality show building to something. But, I'm done with it. Maybe someday I'll go back. But not for a while. To put this in the Top 5 was rough for me, but that also indicates how poor this fall season was.
Jane the Virgin (CW)
Predicted: 11th/23
Actual: 4th/16
I was: Wrong. Show was better than I thought.
My Pre-Season Prediction: This is going to be my crazy pick, and say that it'll get called back for a 2nd season.
Reaction: If it doesn't come back, the whole industry would be shocked.
This is where I draw the line between the "meh, okay" and the "yeah" shows. I didn't anticipate Jane the Virgin to get crazy ratings, and they haven't put a dent against the other broadcast networks. But the show is beyond solid, and a critical darling. It's so solid, I still can't believe it's a CW show. Well, I should believe it: it is a Primetime soap opera, and no other channel would do it better than CW. But the quality is very impressive. As I've said, this show is not the show for me, but I know a good show when I see it. Congrats to CW for nailing it here.
The Flash (CW)
Predicted: 7th/23
Actual: 3rd/16
I was: Close, and love this show.
My Pre-Season Prediction: A 2nd season seems automatic here.
Reaction: It may not be automatic, but it should definitely come back.
And the CW fest rolls along. If you told me a year ago I'd like not one, but three CW shows, I'd say get out. This year, I became a fan of Jane, Arrow (through the power of binge-watching), and its spin-off The Flash. I've said the show lacks the depth Arrow provides, but having a lighter product maybe good for the network. Recently, The Flash and Arrow had a crossover episode that gave both shows their highest audience since their premieres. All good news so far for CW.
Black-ish (ABC)
Predicted: 5th/23
Actual: 2nd/19
I was: Very close.
My Pre-Season Prediction: It breaks the curse! 2nd season, here we come!
Reaction: The curse refers to any show following Modern Family usually don't get renewed (Suburgatory and Happy Endings the only exceptions). So I predicted this would be the first real successful one. And lo and behold: it's probably going to happen.
I thought the show would be good, but to have the top-rated new comedy about an African-American shows is winning. However, I also look at the class of comedies this year, and it was a relatively really bad year for comedies. That doesn't change a thing. Black-ish is not only a solid program, it adjusted itself from its mistakes. It's such a great program now, and ABC deserves a pat on the back.
How To Get Away With Murder (ABC)
Predicted: 1st/23
Actual: 1st/19
I was: Not surprised.
My Pre-Season Prediction: Would you cancel Viola Davis after one season?
Reaction: Nope. No, we wouldn't.
Rarely does a show leave a deep hole on a network schedule after only 15 episodes. After February, ABC's going to freak-out on what to replace it when the season ends.